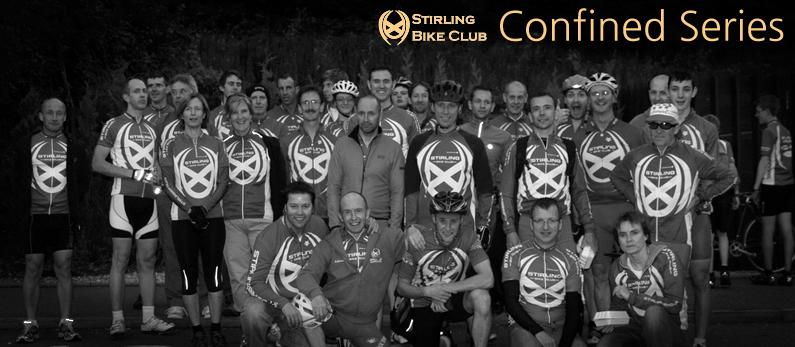 About
This year's club confined Time Trial Series is being organised jointly by Emily Holl and Brenda Callander. They are posting up early so as to make sure that everyone who wants to ride gets an opportunity to 'save the date'.
Info on the four events that make up the club confined series can be found below, however please note that the Wallace Monument Hill Climb isn't part of the series.

Dates for your diaries are:

Round 1: Wed 24th April - 5 mile TT. Start at the Kippen roundabout. The finish line is on the A811 just after the Touch Road junction.
Route can be found here

Round 2: Wed 29th May - 10 mile TT. Start before the lay-by after the Touch Rd junction, head out to the Kippen roundabout, turn and return to the finish as above.
Route can be found here

Round 3: Wed 26th June - 10 mile 2-up TT. Pair up and ride in a team of two. The course is the same as for round 2, see above for course details.

Round 4: Wed 21st August - Hilly TT. One lap of the Battle of the Braes course, starting at the bottom of the mini braes at Thornhill.
Route can be found here

First rider off at 7.01 pm on all rounds.

Entry is free and open to all club members aged 12 and over. No upper age limit! No experience is required and members are encouraged to give it a go! More details will be posted in the run up to each event. Points are awarded for placings in each event and then added up at the end of the series to determine the overall winner. 10 points for a win, down to 1 point for 10th. There are eight categories: Senior male and female, junior male and female. THIS YEAR WE ARE TRIALLING RUNNING BOTH A NON AERO AND AN AERO SERIES in tandem ( tandems welcome btw) with points allocated separate to the non-aero series, hence the eight categories.

Due to a change of insurance from British Cycling to Cycle Time Trials WE ARE ABLE TO OFFER THE OPPORTUNITY FOR BOTH FIRST AND SECOND CLAIM CLUB MEMBERS TO JOIN IN FOR THE FIRST TIME. Depending on the level of interest, the club may support this again. The insurance is more expensive so come along all second claim club members and make it count
To encourage members into Time Trialing, rules and equipment for rounds 1 through 4 are :-
No TT bikes - Road bikes only
No Clip-on aero bars
No disc wheels (deep section up to 60mm are allowed)
No pointy hats (aero road helmets are allowed)
No Skinsuits
All bikes must comply with SC/BC road race regulations, see here for the SC regulations
Previous Series Winners
2018
2018

Female Senior: Christina Mackenzie
Male Senior: Chris Pendlebury
Male Youth: Cameron Kerr

2017

Female Senior: Brenda Callander
Male Senior: Chris Pendlebury
Male Youth: Cameron Kerr

2016

Female Senior: Brenda Callander
Male Senior: Ewan Kerr & Mark Vevers
Female Youth: Emily Field
Male Youth: Vincent Jozajitis

2015

Female Senior: Christine Fischer
Male Senior: David Lindsay
Male Youth: Mathew Peters

2014

Female Senior: Shazza W
Male Senior: David Lindsay
Female Youth: Emily Holl
Male Youth: Mathew Peters

2013

Female Senior: Brenda Callander & Sarah S
Male Senior: Jamie C
Female Youth: Jenny Callander

Results

Images

2011 Hill Climb - Owen Phillipson's Flickr

2009 10m TT - Owen Phillipson's Flickr

2009 Hill Climb - Owen Phillipson's Flickr