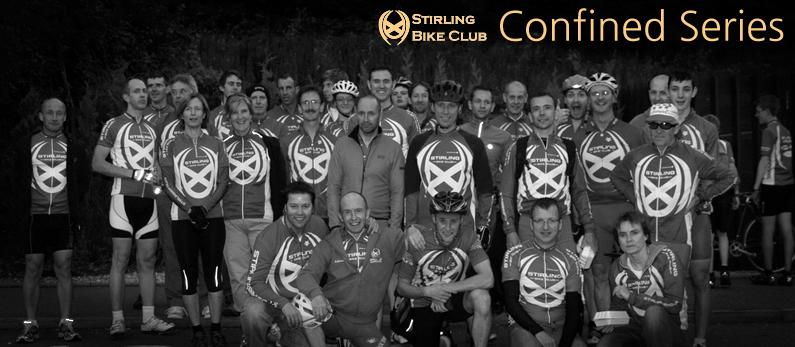 About
Stirling Bike Club hosts a series of Time Trials for first claim members through the summer. Events are usually once-per-month and consist of the following events:
Club confined Series Events
Round 1 : 3/5/2017 - 5 Mile TT (Cambusbarron Course)
Round 2 : 24/5/2017 - 10 Mile TT (Cambusbarron Course)
Round 3 : 21/6/2017 - 2-up TT (Cambusbarron Course)
Round 4 : 16/8/2017 - Hilly TT (Battle of the Braes Course)
Club confined Non-Series Events
18/5/2017 - Hill Climb (Wallace Monument Course)
6/9/2017 - TT Specific Kit (as aero as you want or not)
The first 4 rounds typically run from April to August (with a break in July) on Wednesday evenings. To encourage members into Time Trialing, rules and equipment for rounds 1 through 4 are :-
No TT bikes - Road bikes only
No Clip-on aero bars
No disc wheels (deep section up to 60mm are allowed)
No pointy hats (aero road helmets are allowed)
No Skinsuits
All bikes must comply with SC/BC road race regulations, see here for the 2017 SC regulations
In order to encourage those wishing to progress to full Time Trial specific kit, we have for 2017,introduced an additional, non-series event in September (numbers permitting), open to first claim members only where full aero kit is encouraged along with those who wish to ride on non-aero kit.
Results from this aero confined event will not count towards your overall series standings and willl be reported separately
Entry is free and open for all first claim club members. No experience is required and members are encouraged to give it a go! More details will be posted closer to the time of each event. Points are won in each event, and then added up at the end of the series to determine the overall winner.
Previous Series Winners
2016
Female Senior: Brenda Callander
Male Senior: Ewan Kerr & Mark Vevers
Female Youth: Emily Field
Male Youth: Vincent Jozajitis
2015
Female Senior: Christine Fischer
Male Senior: David Lindsay
Male Youth: Mathew Peters
2014
Female Senior: Shazza W
Male Senior: David Lindsay
Female Youth: Emily Holl
Male Youth: Mathew Peters
2013
Female Senior: Brenda Callander & Sarah S
Male Senior: Jamie C
Female Youth: Jenny Callander
Results
Images
2011 Hill Climb - Owen Phillipson's Flickr
2009 10m TT - Owen Phillipson's Flickr
2009 Hill Climb - Owen Phillipson's Flickr