2 of our high flying Wallace Warriors alumni, Jenny Holl and Rhona Callander, have started their year by competing in some top level track action.
Over the 7th-8th of January, Apeldoorn in the Netherlands held The Next Generation - an international competition for junior riders from all over Europe. This track event has the very best riders competing in national colours. This is an event which Laura Trott has competed at previously.
Resplendent in their new kit, Jenny and Rhona rode as part of a 24 strong British Cycling Junior Academy squad. In last year's Madison Jenny and Rhona paired up to win, how would they fare this time round a year older and wiser?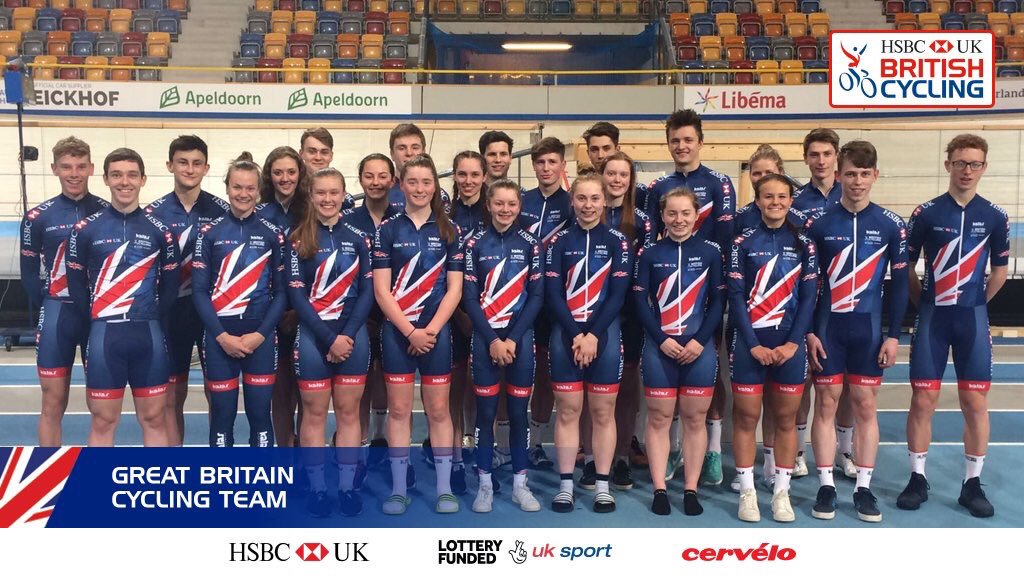 Jenny and Rhona (hiding) lined up with Team GB's Junior squad
Here's how they got on:
Madison
Jenny Holl + Pfeiffer Georgi - 1st
Rhona Callander + Anna Dochery - 2nd
Devil race
Jenny Holl - 2nd
Rhona Callander - 5th
Team Pursuit
Jenny Holl (GB1) - 3rd
Rhona Callander (GB2) - 4th
Scratch Race
Jenny Holl - 2nd
Tempo Race
Rhona Callander - 3rd
This year Jenny paired with Pfeiffer Georgi and Rhona with Anna Docherty for the Madison so a repeat win wasn't possible. Winning the final sprint for the line Jenny and Pfeiffer took first place over Rhona and Anna who finished second. A 1st/2nd finish for Team GB shows the caliber of riders the Junior Academy is working with. Taking 6 podiums amongst the top riders in Europe is a fantastic achievement, well done to you both.