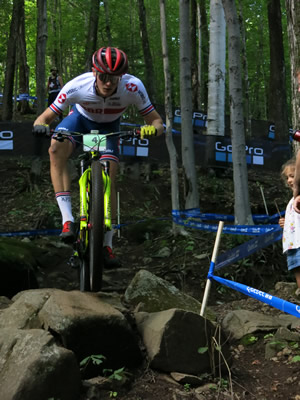 Charlie Aldridge is from Crieff and, at age 8, was one of the first junior members of Strathearn Mountain Bike Club, based at Comrie Croft. He joined Stirling Bike Club in 2014, encouraged by the mountain bike programme run by Steve Field and Donald McLean, and later joined SBC's Performance Squad, which brought focus to his training. He competed in the Scottish Cross Country (SXC) MTB series from an early age and was also ski racing during the winter. He started competing in British races throughout the UK and a crunch moment came when he had to choose between skiing and cycling. His breakthrough came in 2017, when he started winning British races. He then won the European Youth Championships in Graz in the same year, and was subsequently selected for the British Cycling Junior Academy Programme. British Cycling took him to several European races in 2018, where he started to get top 10 places.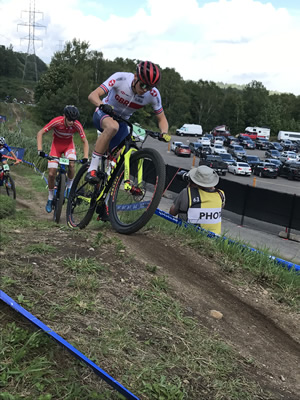 After completing his sixth year exams in early summer this year, Charlie went out to Europe with the GB team and won three World Cup races in a row. He then went out to Andermatt with the Scottish team and won again at a World Cup. Back home in early July, disaster struck when he fell while out training and cut open his knee. Four stitches and a few weeks later, he struggled to get back to fitness. He had to pull out of the British Champs and came a disappointing 33rd in the European Championship.
However, the Scottish Championship came at just the right time, and he came back to form on a very wet and muddy day at Lochore Meadows. Two weeks ago he headed to Canada for a training week before the Junior World XC Championship, held in Mont Sainte-Anne, near Quebec. On the Wednesday of race week, Charlie raced as the Junior rider in the team relay, in which GB came 6th.
Charlie then won the 2019 Junior World Cross Country Mountain Bike Championships on the brutal Mont Sainte-Anne course. He was one of a team of eleven GB riders, of which 5 were Scots. Charlie's victory is historic as it is the first British win at a Mountain Bike cross country World Championship - an Olympic event which is dominated by the alpine nations, particularly Switzerland.
The Junior race was very close, with Charlie sitting between 2nd and 3rd place as the race progressed on the technical and steep course. On the last climb on the final lap, and just behind the Italian leader, Charlie made his move. Both riders went into a sprint, but then clashed and over-balanced, but Charlie managed to stay on his bike and take the lead. After racing for an hour and 7 minutes, Charlie took the win with a lead of 11 seconds.
Charlie is hoping to be selected for the British Cycling Senior Academy which will involve a year of training and racing, moving up into the Under 23 category. With the cross country season coming to an end, Charlie is heading out to Zermatt to compete in an Enduro World Series race.