On the 14th-18th August the Youth European Mountain Bike Championships was held in Graz, Austria. This saw over 400 riders under the age of 17 from 21 different nations taking part in off-road action in a series of challenging events.
Taking part from Stirling Bike Club was Charlie Aldridge. Charlie is currently having a stand out season with several wins at UK level in the National MTB Cross-Country series. Charlie was competing as part of the Ride for Charlie team - a charity set up following the sudden death of friend and fellow competitor Charlie Craig who died in January from an undiagnosed heart condition. The charity raises money to assist young people competing in off-road MTBing
The event was split into 4 events - a Team Relay, MTB Combined (a series of short technical timed sections), and 2 cross-country races. Competing with 2 other UK National champions (Harry Birchill and Harriet Harnden), Ride For Charlie came 2nd in the Team Relay, and went on to take 3rd place in the overall Team Classification. Next up in the individual events Charlie used his exceptional technical ability to win the MTB Combined. In the first of the 2 cross-country races the heavens opened, making for a course well suited to Charlie's experiences of riding in Scotland. After securing the win in the first race, Charlie placed 4th in the final race - enough to clinch overall victory.
This awesome result sees Charlie reach the pinacle of youth MTB'ing and is an unbelievable achievement. He's had a steady rise to the top over the past couple of years, fuelled by a passion for off-road riding and through a massive commitment to his training.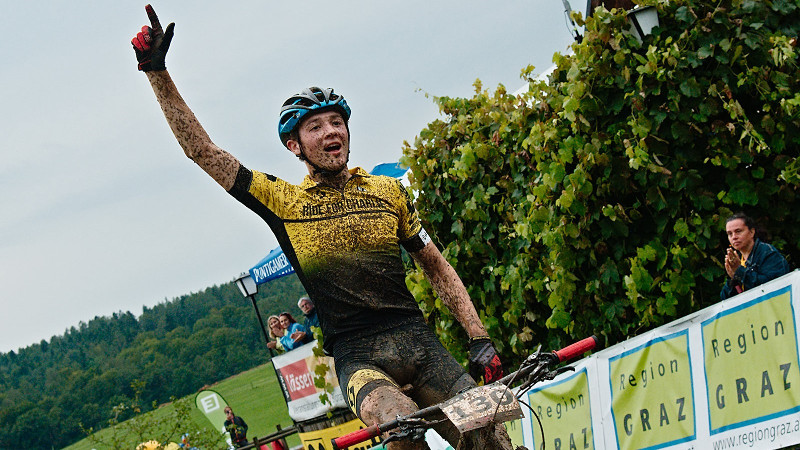 By winning this event Charlie earns the right to wear the European Championship Jersey in the remaining cross-country competitions this year. Hopefully he'll keep that cleaner than his race top!
Well done Charlie!