On the 29th January Linlithgow Lesuire Centre hosted The Last Gasp Cyclo-cross race. This was another women-only event with the same format (skills coaching in the morning) as Nether Mind the PolloCX, with mixed youth racing.
Stirling riders taking part in the women-only part were:
Senior Women
Christine Fischer - 4th
Yvonne Shaw - 10th
Helen Gorman - 12th
Lorna Denny - 18th
Veteran Women
Brenda Callander - 1st
Beth Clayton - 5th
Helen Winton - 6th
In the 30 minute race the seniors were set off 30 seconds before the vets, and Brenda STILL managed to win overall! Great to see Lorna Denny out for her first race and enjoying the mud.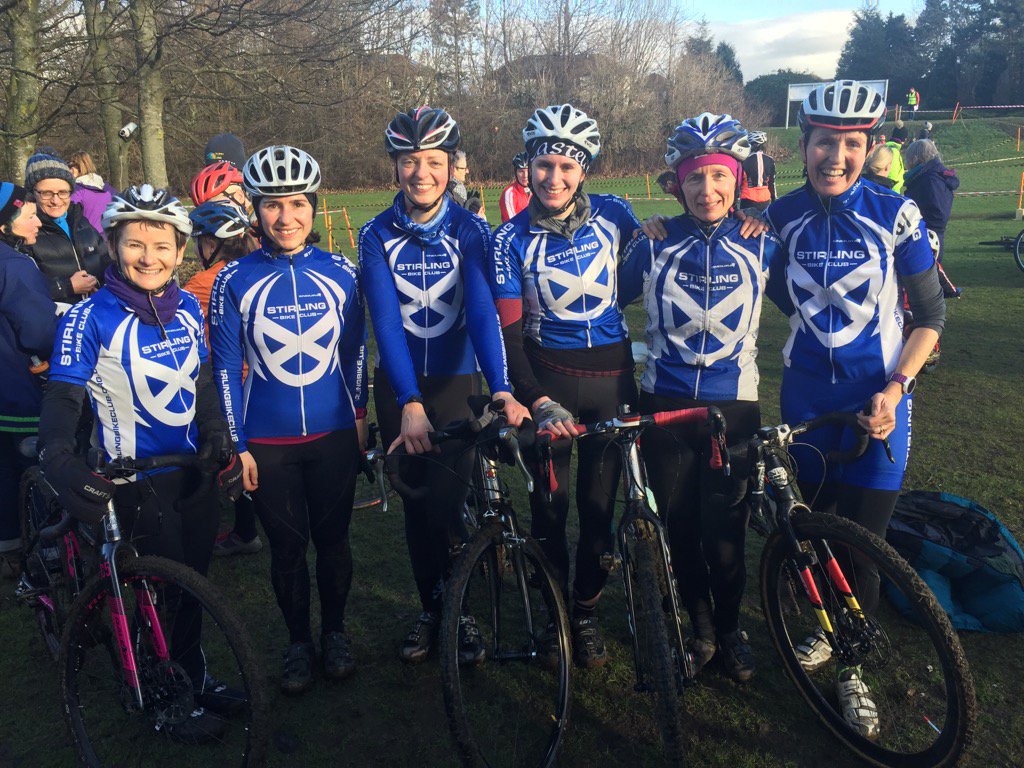 Judging by the clean kit - this is the Women's Team getting ready to start!
There was another great turnout of Warriors riding in the youth categories:
U14 Girls
Eilidh Shaw - 2nd
U14 Boys
Cameron Kerr - 15th
U12 Girls
Emma Baillie - 13th
U12 Boys
Alasdair Baillie - 13th
Jake Speed - 24th
U10 Boys
Struan Shaw - 2nd
Alex Reid - 12th
U8 Boys
Alastair Ruskell - 10th
With two 2nd places and mum Yvonne in the top 10, it's been an excellent day out for the Shaws. Eilidh's result is particularly impressive as she would have finished 3rd in the U16 girls, and her time was only 5 seconds slower than Brenda's winning time in the women's race!
Well done to all the Warriors taking part and great to see the women's team out in numbers early in the season.